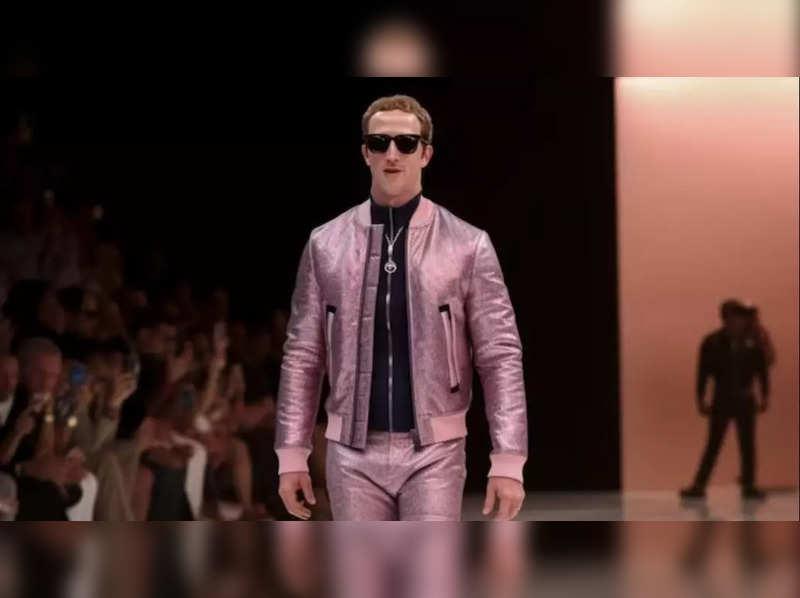 Pictures of Mark Zuckerberg walking the ramp go viral, but here's the truth!
Have you seen pictures of Mark Zuckerberg, the CEO of Meta, walking down a runway wearing a Louis Vuitton outfit? The pictures of him strolling the ramp with assurance while wearing flamboyant clothing have gone viral online. Following the termination of hundreds of Meta employees, people are speculating about his possible career change. It's vital to understand that the images are artificial intelligence (AI) creations utilising the Midjourney image generator, so don't get too thrilled just yet.
In the pictures that have now gone viral on the internet, Zuckerberg can be seen in a brand-new avatar. On the runway, he is seen wearing a vibrant yellow attire. He can be seen in an another photo sporting a blingy pink attire that appears to be Louis Vuitton-branded. The main problem right now is that Zuckeberg is not considering a modelling career. All of the photographs that have become popular on the internet were created by AI. But it would be difficult to tell them apart.
An AI developer named Linus posted the Zuckerberg photos that were produced by artificial intelligence on Twitter. Alongside his post, a different user by the name of Czarek Michalski made photos of Elon Musk strutting down the catwalk in glitzy attire using the same suggestion.
Remember that this isn't the first time that social media has been inundated with eerily accurate pictures of famous people. Prior to Zuckerberg, the authors let their imaginations run wild, picturing the Pope parading around in a pricey puffy jacket and former US President Donald Trump in a sticky scenario. The internet was unable to stop talking about such posts because they seemed so authentic. Some of them were relieved that it was finally occurring in the image made for Trump, where he is seen being arrested by the police, while his supporters were left in great sorrow.
In related news, Midjourney, the AI programme that was utilised to produce these lifelike visuals, no longer provides free trials. Because the realistic photographs can only be produced using Midjourney version 5, which is exclusively available to premium customers, the company has not claimed these images as the basis of the recall of free trails.