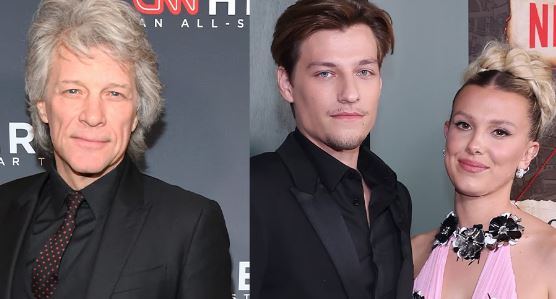 Jon Bon Jovi Reacts to Criticism Over Son Jake's Engagement to Millie Bobby Brown.
Jon Bon Jovi recently addressed concerns that his son Jake Bongiovi, 20, and Millie Bobby Brown, 19, were too young to be engaged, noting, "I don't know if age matters."In fact, the rock star is celebrating his 20-year-old son Jake Bongiovi's recent engagement to Millie Bobby Brown, 19.
"I don't know if age matters," Jon told SiriusXM's Andy Cohen Live May 2 when Andy Cohen asked if he was worried about Jake and Millie getting engaged at such a young age. "If you find the right partner and you grow together, I think that would be my advice really: growing together is wise. Growing together. I think that all of my kids have found the people that they think they can grow together with and we like 'em all."
The words hit close to home to the Bon Jovi frontman, who married his high school sweetheart Dorothea Hurley in 1989. In addition to Jake, the couple share daughter Stephanie, 29, and sons Jesse, 28, and Romeo, 19.
Soon, they'll officially welcome Millie into the family, and Jon—who said he's "of course" seen her hit series Stranger Things—couldn't be more delighted.
"Millie is wonderful," he said of the actress. "Her whole family is great, really great. Jake is very, very happy."
Millie and Jake announced their engagement on April 11, with the Netflix star posting a black-and-white photo of Jake hugging her as she showed off a diamond ring on that finger. To top it off, she captioned her post with lyrics from Taylor Swift's song, "Lover," adding, "I've loved you three summers now, honey, I want 'em all."