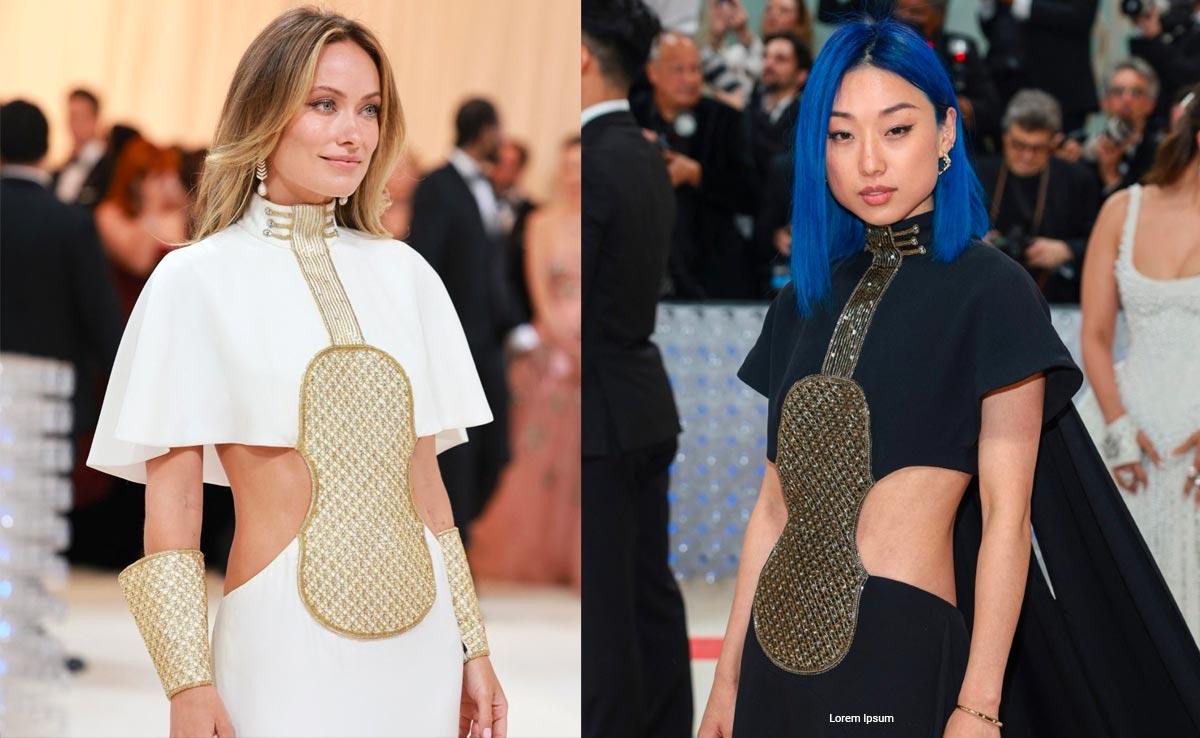 Remember The Viral Dress Debate? Olivia Wilde And Margaret Zhang's Chloe Dress Is The Met Version Of It
If you had social media in 2015, you would have definitely heard about 'the dress'. An optical illusion of sorts that circulated on every Facebook page you visited, it was a photo of a bandage dress that appeared to be gold and white in colour to some; and to others, black and blue. Almost a decade and much eye-rubbing later, the real shades were apparently confirmed by the retailer to be blue and black in colour. However, ask me to look at it again today and I will vehemently insist that it's gold and white.
(Also Read: The Striped Carpet At The 2023 Met Gala In New York Was Woven Right Here In Kerala, India)
That brings me to the 2023 Met Gala version of the very fashionable optical illusion. Hollywood actress Olivia Wilde attended the event wearing a vintage Chloe gown with a column silhouette. The white dress featured short cape sleeves with an embroidered gold violin panel, cutouts over the torso and matching gold cuffs. Olivia wore the high neck number with her blonde locks in waves, subtle gold makeup and diamond danglers.
Photo Credit: AFP
(Also Read: Kendall Jenner Parties Away Into The Met Gala After Hours Dressed In A Barely-There Bodysuit)
Also wearing the very same dress was Vogue China's Editor-In-Chief Margaret Zhang. She picked the same Chloe gown in a black shade which featured the same design. Margaret's pairings were zanier with a subtle gold cuff and a black mini purse. It was her poker straight cobalt toned bob hairstyle which added vibrancy.
Photo Credit: AFP
It's the same Chloe dress worn two ways but this time, we aren't asking whether you see it in white and gold or black and blue. For this Met Gala version of the viral dress debate, you can take your pick as to who styled theirs better and tell us in the comments.
(Also Read: Natasha Poonawalla Looked Snatched In A 1991 Chanel Street Wear Look, First Worn By Linda Evangelista)