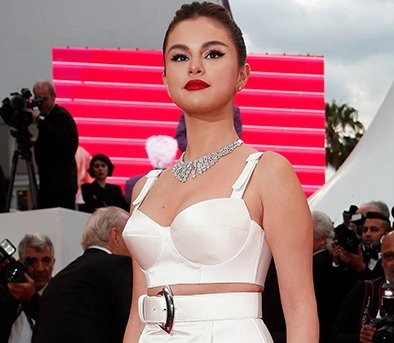 Selena Gomez Rocks Sexy White Slip Dress
We can't wait any longer! Selena Gomez took to her Instagram to tease her upcoming song, 'Lose You To Love Me,' with a beautiful clip that will give fans goosebumps.
It's almost here! Selena Gomez, 27, teased her upcoming song, 'Lose You To Love Me' on her Instagram page on Oct. 22 with a beautiful clip that could be from the song's music video. In the post, the "Hands To Myself" songstress sits at a piano, playing chords in succession. The black and white clip is lit so perfectly, fans can barley see Selena's face while her beautiful black hair falls over her shoulders and down her back.
While at the piano, Selena wears a simple, white slip dress with a matching sweater wrapped around her lower back and the sleeves just covering her lower arms and wrists. The video also cuts to black and one point, featuring Selena's name, then featuring the title of the ballad: "Lose You To Love Me." "Tonight. 9 pm PT/ 12 am ET/ 4 am GMT," she captioned the post.
Fans have been freaking out about the song since the pop star took to Instagram on Oct. 18, finally sharing with her fans the title of her new, solo track. Selena even showed the album art for the song, featuring a tattered black and white photo of Selena looking at the camera, totally wide-eyed.
Naturally, fans started reading into the song's title and went all over social media sharing their thoughts that the ballad could be about Selena's old flame, Justin Bieber, 25. "Looking forward to hearing Selena Gomez' new song," a fan wrote on Twitter. "Based on the title "Lose you to love me" I'm pretty sure this song is about Justin Bieber."