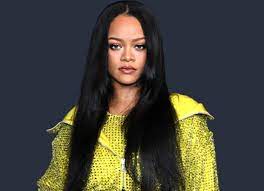 Rihanna Confirms She Is Headlining the Super Bowl Halftime Show
There has been a lot of talk about who will be performing at the next Super Bowl Halftime Show and on Sunday, September 25, TMZ reported that the NFL and Roc Nation have been negotiating with musical artist Rihanna to come on as the show's headliner. Early Sunday afternoon, Rihanna posted an image of her hand holding up a football, seemingly confirming the rumors.
A source told TMZ that there would be at least two performers for the upcoming event, so Rihanna's co-host may be announced soon.
There had been rumors that Taylor Swift might be the upcoming headliner. Swift has had an ongoing deal with Coca-Cola, and the Halftime show has been sponsored by Pepsi. Until this year, that is, when Apple took over sponsorship, freeing the way for a Swift performance. However, Swift has reportedly refused to perform until she rerecords all six of the albums whose master recordings were bought and then sold for $300 million by talent manager Scooter Braun.