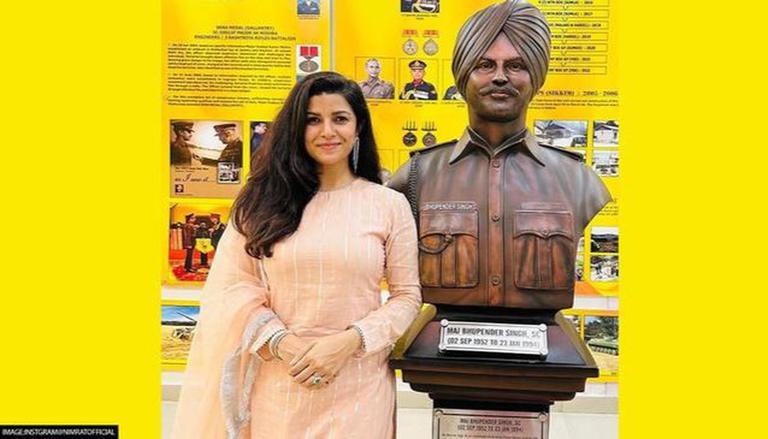 'Gallant sacrifice for the nation' Nimrat Kaur Unveils Father Major Bhupender Singh's Bronze Bust, Recalls His Contribution
It's a matter of great pride for actor Nimrat Kaur who reached Patiala to unveil her father late Major Bhupendra Singh's statue in the Patiala regiment. To celebrate her father's contribution to the nation, a bronze statue of Major Bhupendra Singh was inaugurated at the Heritage Hall at his parent regiment 64 Assault Engineer Regiment in Patiala.
Apart from the statue, Nimrat's father received another honour after he was also awarded the Shaurya Chakra posthumously. The moment turned emotional for Kaur, who took to Instagram and penned a note while expressing her joy over the honour for her late father.
Nimrat in her note on Instagram mentioned how she cannot be more proud than to see her father's sacrifice for the nation 28 years ago being recognised. Calling it a special moment while sharing his fondness for Patiala, the actor wrote, "My late father's gallant sacrifice for the nation 28 years ago in Kashmir was recognised by his parent regiment in Patiala by an invitation for us to inaugurate his bronze bust."
A post shared by Nimrat Kaur (@nimratofficial)
Adding, she wrote, "Mama, Ruby, and I shall be ever so grateful to our 64 Assault Engineer Regiment family for immortalising the good work and the legacy of Papa's service to the land and forces on the prestigious occasion of their 49th Raising Day. As Papa would've customarily roared from the parade grounds, Agrani Ajay!! Jai Hind."
Major Bhupinder Singh with his skillful deployment and bold action, was able to cause large-scale destruction of Pakistani tanks and other equipment. Although his tank was hit on several occasions, he continued to remain in effective command and by several acts of personal gallantry inspired his men to fight courageously. Major Bhupinder Singh displayed great determination and courage under heavy enemy fire by continuing to fight with only two tanks after most of his tanks had been disabled For those unknown, the place is also special for the actor as she completed her 5th, 6th and 7th standard in a school which really laid the foundation for where she is today.
Nimrat's Dasvi co-star Abhishek Bachchan was the first one to comment below the post. He posted a folded hands emoticon. Followed by Bachchan was Aahana Kumra, Sumeet Vyas, Rahul Dev, and Athiya Shetty among others who poured their heart into the star.