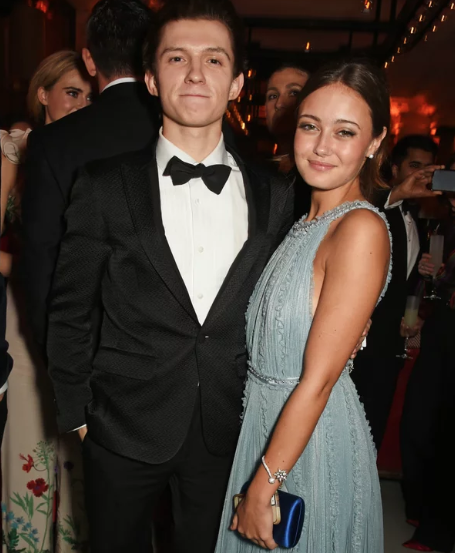 3 Ladies Who Tom Holland Is Rumored to Have Romanced
Spider-Man: Far From Home star Tom Holland has always been pretty close-lipped about his love life, but in a July 2019 interview with Elle, he shared a surprising tidbit about his view on relationships. Tom claimed that — while he's not romantically involved with anyone at the moment — he is "definitely a relationship person." He added, "I'm not the fleeting type at all; it's not my way of life." Of course, now that Spidey is back in the MCU, Tom is going to be busier than ever — and a third Spider-Man movie will inevitably provide even more fodder for people to speculate about him and his costar Zendaya. Who has the 23-year-old English actor actually romanced? We've got the scoop.
1. Elle Lotherington
Though Tom never confirmed the relationship, he reportedly had a long-term romance with childhood sweetheart Elle Lotherington. Back in June 2015, when it was first announced that Tom had landed the role of Spider-Man, Elle tweeted, "Couldn't be a more proud girlfriend right now.. Tom Holland, I love you. #spiderman." Tom also once shared a story in an interview about attempting the "Spider-Man kiss" with an old girlfriend, and we can only imagine that Elle is the mystery lady he's referring to. However, the two unfollowed each other on Instagram in May 2016, so it seems they decided to go their separate ways.
2. Ella Purnell
Another rumored relationship for Tom was with fellow actress Ella Purnell, with whom he got pretty cozy at the BAFTA afterparty in February 2017. According to The Sun, the two were attached at the hip following the event (where Tom won the Rising Star award) and may have even left together. A source claimed, "Tom and Ella were very close inside the Weinstein party and it looked really obvious that he was taken by her," noting that Tom was "leading her around the dance floor by the hand." Nothing more was ever heard about this maybe-couple after the party, so it may have been a one-night romance.